Rough Trade Nottingham
Faux Pas + Let Man Loose + Seven Rivers + Bloodhound
£5
Entry Requirements: n/a
Buy Tickets
We can't wait to return to Rough Trade Nottingham in December with this awesome line-up. Faux Pas are joining us at Rough Trade. We've wanted to play with the city's own Seven Rivers for a while as we love what they're doing. We're also delighted to have hometown friends Bloodhound alongside us once again.
Line Up
Grown in York and brewed in Manchester, Faux Pas have injected chaos into their live performances on stages all across the UK. The band have flirted on stage with LIFE, Bull and Dry Cleaning, as well as shouting 'LOOK MA!' at Leeds and Reading, Humber Street Sesh and Kendal Calling. The 4-piece have received airplay from Radio 1 and are heavily championed by BBC Introducing: 'That's My Ego had my head off!' - (Jericho Keys BBC Introducing York). Catch the slightly nerdy, grungey sponges with a renewed sense of vigour in Autumn 2021 as they return from the omnishambles of the recent past.
"Manchester trio Faux Pas can take care of themselves. A resolutely DIY experience, the band stand apart from the hyper-capitalist day-to-day experience of life" - CLASH
"Their EP is absolutely magnificent" - BBC Introducing
Soundcloud: https://soundcloud.com/fauxpasyork Spotify: https://open.spotify.com/artist/28L6HIX4S0kLRfiV6zbCW6?si=TkbRyJ4nSnit1RFb9ERDFQ Facebook: https://www.facebook.com/FauxPasUK/ YouTube: https://www.youtube.com/channel/UCouNH1zSj1011g1zEuGMr6A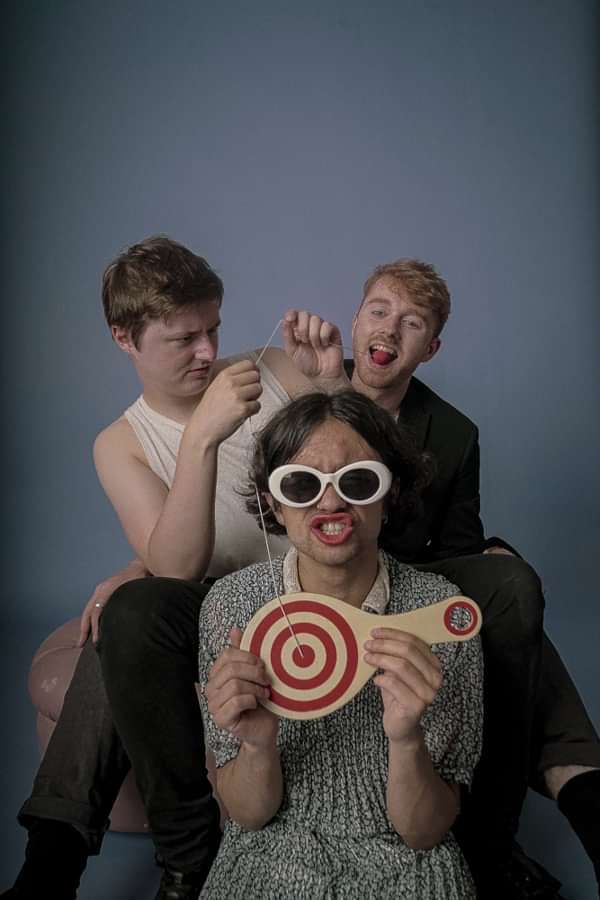 Post-Modern Grunge three-piece from Hull taking influence from an array of artists including Drenge, My Bloody Valentine, Radiohead, and DIIV. Formed in 2015. Bloodhound have achieved significant heights with BBC 6 Music, BBC Introducing, Big Issue North, Man of Moon, and Low Hummer.
Throughout Bloodhound's career, their sound has been constantly evolving from their early Drenge, Royal Blood, and QOTSA roots all the way through to their current, yet to be revealed state, which has been manipulated and drenched by the sounds of My Bloody Valentine, Radiohead, and DIIV.
With a debut album under their belts, that was unleashed into the world in January 2020, Bloodhound have spent the last 18 months meticulously dissecting the response from that album and carefully crafting it into something that promises to be more modern, mature, and ambitious than their first record.
"They deliver what it says on the tin with style and assurance." - Tom Robinson, BBC 6Music
"They were great, they are great, and I don't think it would be controversial to say they'll be even better in the future." - The Gryphon
"It's them being themselves, it doesn't sound like they are trying to conform to any particular style, and I respect that." - Alan Raw, BBC Introducing Humberside
"Totally on it right now." - Warren Records
"Bloodhound's fuzzy DIY sound is laced with a sense of doom and foreboding not dissimilar to the likes of Drenge and Demob Happy." - Sound of Pen
"Growing in stature with every performance" - Mark Page (Sesh Events UK)
"Bloodhound have evolved their hand crafted melodies into sludgy, high octane and intense forms of modern day grunge." - Counteract
"I heard one song from the back of a golf cart at a festival and it sounded GREAT." - Daniel Mawer (The Sesh & Low Hummer)