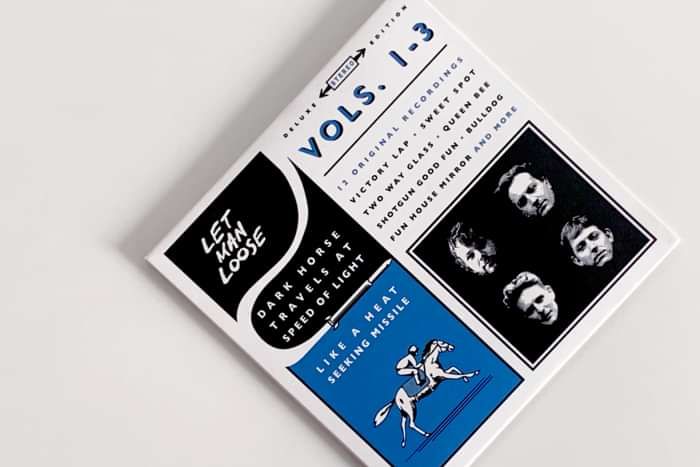 Vols. 1-3 2 CD Deluxe Edition
The deluxe edition of 'Vols. 1-3' is here!
With a second disc featuring 23 unreleased demos and early takes, the deluxe edition allows an insight into the creation of the record's songs.
'Vols. 1-3' is a celebration of the music we recorded between 2017-2019, compiling all tracks from our trilogy of EP releases and featuring brand new tracks 'Victory Lap', 'The Acid Test' and a re-recorded 'Sweet Spot' from our 'Vol. 3' EP.
The gatefold sleeve features striking artwork designed by Francis Scott and influenced by bold retro newspaper advertisements - the slogans taking cues from the song lyrics.
Super limited edition of 50.
SIDE A
Victory Lap
Sweet Spot
Two Way Glass
Queen Bee
At Close Quarters
This Man's Ruin
Shotgun Good Fun
The Coffin's Final Nail
Bulldog
The Acid Test
Fun House Mirror
I Warned You
2 DISC DELUXE EDITION FEATURING
23 UNRELEASED DEMOS AND EARLY TAKES
SIDE B
Victory Lap (Instrumental Demo #1)
Victory Lap (Demo #2)
Sweet Spot (Demo #1)
Sweet Spot (2017 Mix)
Two Way Glass (Instrumental Demo #1)
Two Way Glass (2018 Mix)
Queen Bee (Instrumental Demo #1)
Queen Bee (First Mix)
At Close Quarters (Instrumental Demo #1)
At Close Quarters (Instrumental Demo #2)
At Close Quarters (First Mix)
This Man's Ruin (Demo #1)
This Man's Ruin (Acoustic)
Shotgun Good Fun (First Mix)
The Coffin's Final Nail (Demo #1)
The Coffin's Final Nail (Instrumental Final Mix)
Bulldog (Instrumental Demo #1)
Bulldog (Demo #2)
The Acid Test (Instrumental Demo #1)
The Acid Test (First Mix)
Fun House Mirror (Demo #1)
Fun House Mirror (First Mix)
I Warned You (Instrumental Final Mix)